Christmas Miracles of a Mother and Newborn Died and Revived in Colorado 2009
Wed, 12/30/2009 - 14:26

As I turned on the laptop today, a news clip popped up on AOL.com. It said, "Christmas Miracle" for Mother and Newborn
"On Dec. 24, Tracy Hermanstorfer and her yet-to-be born son died in the delivery room of a Colorado hospital. Then, they both came back to life..."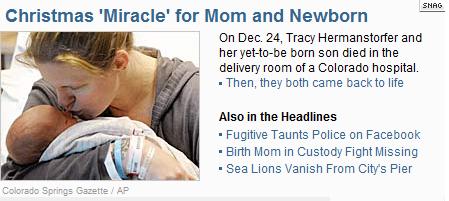 I clicked on the title and it brought me to an article at Sphere.com with an imbedded video from CNN.com.
This miracle took place on Christmas Eve, according to the article. The mother, Tracy Hermanstorfer went into cardiac arrest in the middle of labor. "She had no signs of life. No heartbeat, no blood pressure, she wasn't breathing," said Dr. Stephen Martin, a maternal fetal medicine specialist at Memorial Hospital in Colorado Springs, where the Hermanstorfers had gone for the birth of their son. The father, Mike Hermanstorfer, clutched on his wife's hands as her life slipped away in the hospital while in labor, on Christmas Eve. The hospital did the cesarean section to deliver the baby. The baby's body was limp with little breathing in the father's arms, the article said. Watch this video from CNN for more information.
CNBC wrote on their headline:
Mother, baby revived after dying in labor
.
Fox News:
'Hand of God' Seen in Christmas Eve Revival of Mother, Baby